DenTek Slim Brush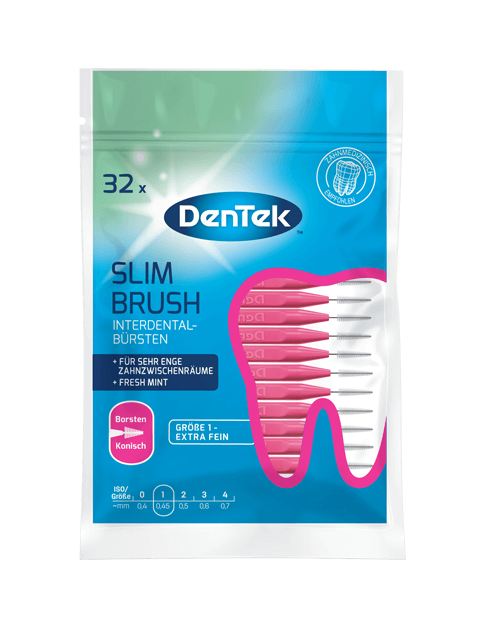 DenTek Slim Brush
Wenn Sie nach Interdentalbürsten suchen, die für die Reinigung von engen Stellen und heiklen Winkeln zwischen Zähnen und Zahnfleisch entwickelt wurden, haben wir für Sie die Antwort. DenTek Slim Brush 0,45 mm sind konisch und schmal, um sicherzustellen, dass sie auch die schwer zugänglichen Bereiche Ihres Mundes erreichen können. Mit einer schlanken Bürste, die sich an der Spitze verengt, können sie in sehr kleine Zwischenräume eindringen und zum Reinigen zwischen den Zähnen verwendet werden. Sie eignen sich auch zum Reinigen von Zahnspangen.
Produktmerkmale und Hauptvorteile
Die konisch zulaufende Bürste verengt sich an der Spitze und gelangt bequem in besonders enge Stellen
Minze für mehr Frische
Von Experten entwickelter Komfort-Draht, erreicht besonders enge Stellen bequem ohne Durchbiegung
Biegt sich, um die richtigen Winkel für leichteren Zugang zum Reinigen zwischen allen Zähnen und Zahnspangen zu schaffen
Rutschfester, flexibler Softgrip-Griff für Komfort und einfache Handhabung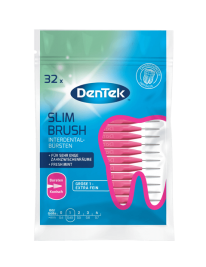 Zusätzliche Informationen
Wo zu kaufen
Gebrauchsanweisung
Bewertungen
Zusätzliche Informationen
Wo zu kaufen
Gebrauchsanweisung
Zwischen Zähnen, Zahnzwischenräumen oder Dentalvorrichtungen einsetzen.
Machen Sie eine sanfte Hin- und Herbewegung, um Plaque und Speisereste zu entfernen.
Bewertungen
Highly Recommend!Excellent for good mouth , gum care
A Day
No complaints re product as I have ordered these before and they suit me fine, arrived on due date well packaged.
DaveK
Much cheaper than a teepee but just as good. My partners dentist is very happy with him now he uses them!
Gemma Dunn