DenTek Zahnseide-Etuis für Unterwegs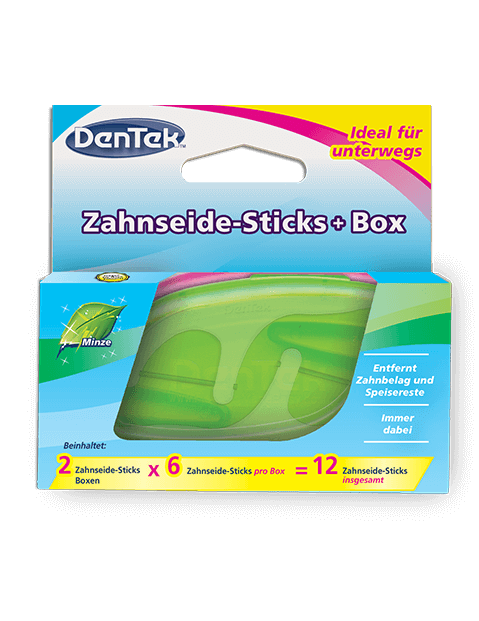 DenTek Zahnseide-Etuis für Unterwegs
Mit unseren On-The-Go Zahnseide-Sticks inkl. Etui können Sie schnell und einfach ihre Zähne reinigen, wenn Sie nicht zu Hause sind. Jedes Etui wird mit Comfort Clean Zahnseide-Sticks geliefert und ist so konzipiert, dass es bequem in Ihre Handtasche, Hosentaschen oder Reisetaschen passt.
Wesentliche Vorteile & Produktmerkmale
Ideal für die Verwendung von Zahnseide unterwegs
Hygiene-Etui ist mit 6 Zahnseide-Stäbchen ausgestattet
Ultradünne, extra sanfte Zahnseide, geeignet für empfindliche Zähne und Zahnfleisch
Der beschichtete Stick sorgt für eine tiefe Reinigung zwischen den Zähnen und massiert gleichzeitig das Zahnfleisch
Entfernt effektiv Plaque und Speisereste
Bekämpft schlechten Atem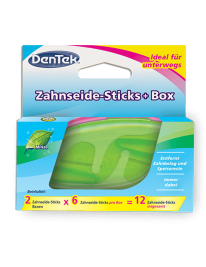 Zusätzliche Informationen
Wo zu kaufen
Gebrauchsanweisung
Bewertungen
Zusätzliche Informationen
Die Zahnseide-Etuis sind in verschiedenen Farben erhältlich – so bleiben die Zahnseide-Sticks sauber und sind der perfekte Begleiter für Unterwegs. Wenn Sie auswärts essen und einen Zahnstocher benutzen möchten, oder wenn Sie geschäftlich unterwegs, oder im Urlaub sind und die Zahnseide als Teil Ihrer regelmäßigen Zahnhygiene weiter benutzen möchten, könnte unser Reiseetui für Zahnseide genau das sein, wonach Sie suchen.
Regelmäßige Verwendung von Zahnseide hilft dabei, Plaque zu entfernen, der sich entlang des Zahnfleischsaums bildet, und Speisereste, die zwischen den Zähnen stecken, zu lösen. Dies wiederum kann helfen, Mundgeruch und Zahnfleischerkrankungen zu verhindern.
Für weitere Informationen über unsere On-The-Go Zahnseide-Sticks & Etuis, zögern Sie nicht uns zu kontaktieren.
Wo zu kaufen
Gebrauchsanweisung
Anwendungshinweise Zahnseide:
Führen Sie die Zahnseide vorsichtig zwischen den Zähnen auf und ab (nur mittlere bis große Lücken) und lassen Sie die Zahnseide um die Zähne wölben.
Reinigen Sie oberhalb und unterhalb des Zahnfleischrands.
Bei Bedarf mit Wasser reinigen.
Anwendungshinweise Zahnstocher:
Setzen Sie den Zahnstocher zwischen die Zähne und drücken Sie sanft gegen das Zahnfleisch.
Verwenden Sie eine Hin- und Herbewegung, um Nahrungsreste zu entfernen und das Zahnfleisch zu stimulieren.
Bei Bedarf mit Wasser reinigen.
Anwendungshinweise Zungenreiniger:
Strecken Sie Ihre Zunge heraus.
Legen Sie den Zungenschaber auf den Zungenrücken und ziehen Sie ihn nach vorne, um die Oberfläche der Zunge zu reinigen.
Bei Bedarf mit Wasser reinigen.
Bewertungen
My teeth are not in the best of shape. I have spaces between them which catch food every time I eat, so I keep dental flossers close by at all times.
These Dentek Flossers with Travel Cases fit my needs perfectly, because I can carry them in my purse, pocket or keep a case by my computer desk and nightstand without having loose dental flossers lying around.
The Floss is sturdy and well secured. I have had no issues of it breaking when flossing my teeth.
The "Pick" styled, opposite ends work well for removing any bits of food that the floss end misses.
The cases are only molded on one side, so if I open one the wrong way, the Flossers tend to re-position themselves, but as long as I pay attention to how I am opening the case, this isn't an issue.
I Love the Portability of these Dentek Travel Cases with Flossers and would highly recommend them!
Abbas girl
These Dentek Flossers work great! I love these for tossing in the car, my purse, travel bag and just having them on the go with me. You get 4 plastic cases in each package with 6 flossers in each case. The case is even small enough where you can put it in your pocket and take with you if you don't want to carry anything else. Me and my family love these and will definitely be buying them again
Alwaysabusybee
These are great floss picks. I have these in both my bathrooms, one in my bag and one at work
ME.