DenTek Easy Brush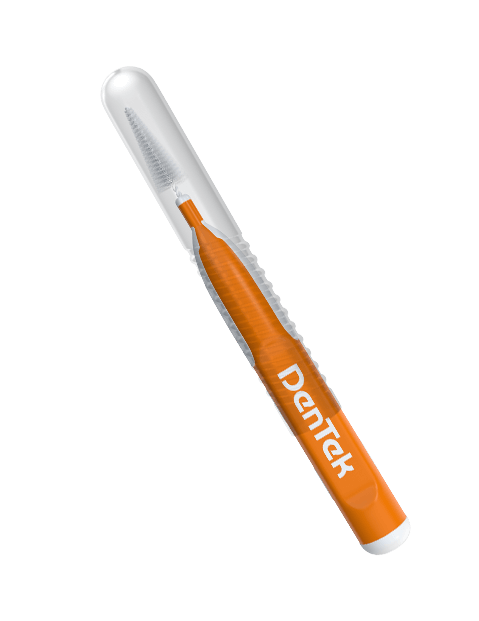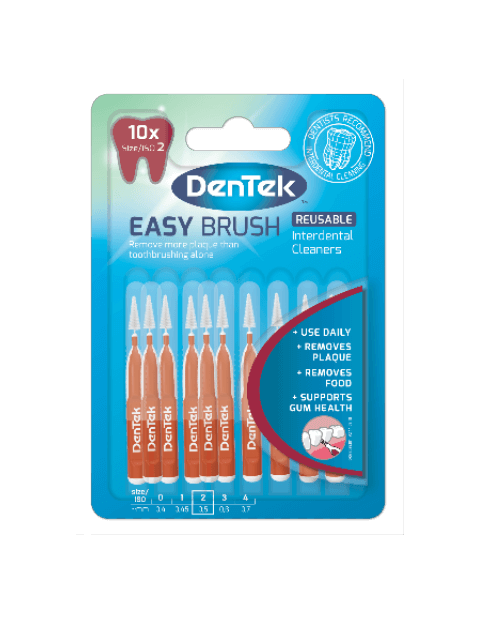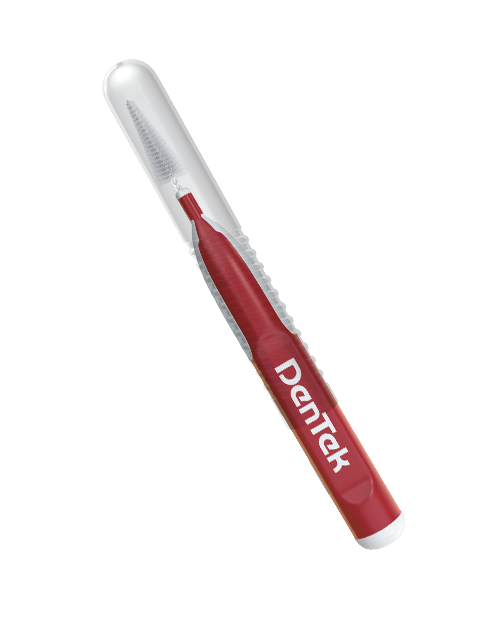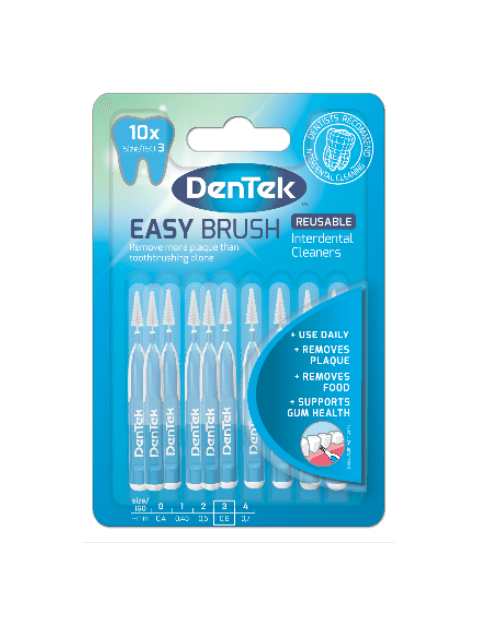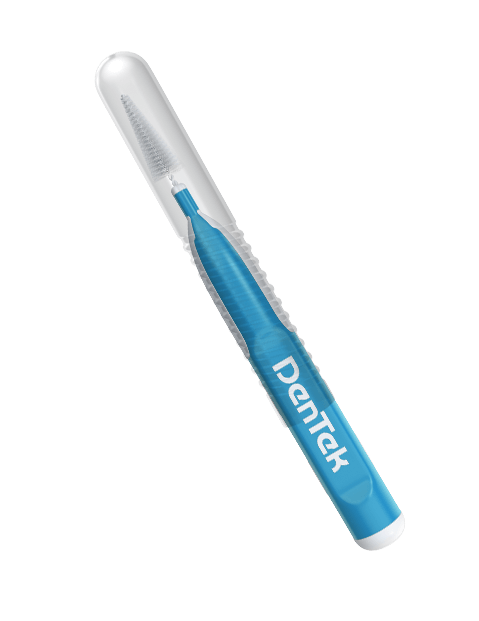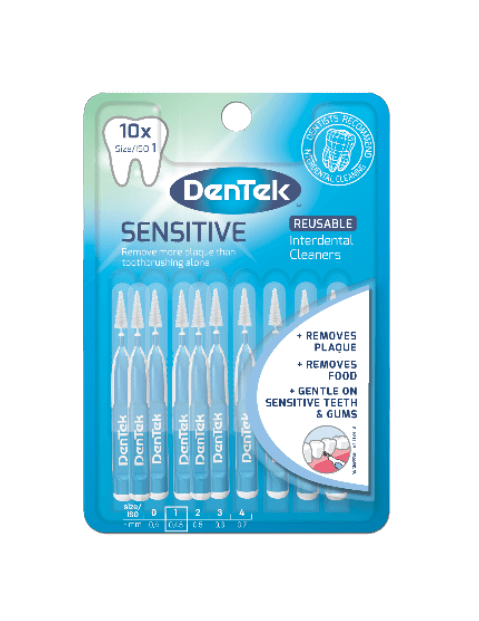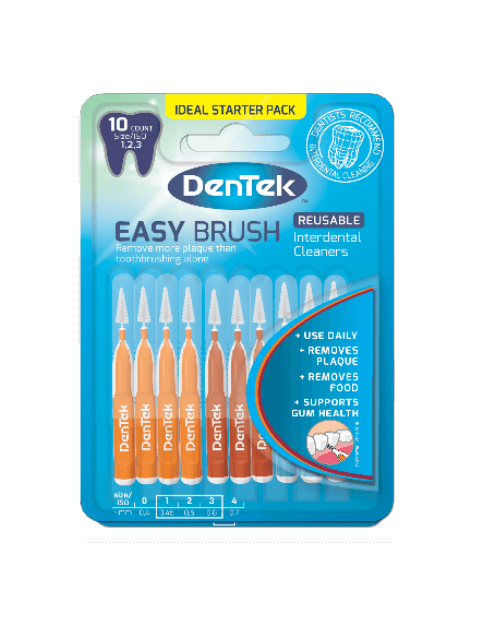 DenTek Easy Brush
Easy Brush ISO 1 (0.45mm)
Easy Brush ISO 2 (0.5mm)
Easy Brush ISO 3 (0.6mm)
Easy Brush Mixed Sizes
If you want a quick and simple way to clean those hard-to-reach, tight spaces in your mouth, DenTek Easy Brush interdental cleaners could offer a convenient solution. Featuring a thin, durable, tapered brush, these products are specifically designed to clean tight spots. They help you to remove food and plaque from the gaps between your teeth, and to clean braces, bridges, crowns, implants and other dental appliances.
Product Features & Key Benefits
Thin brush great for tight spaces and effectively removing food and plaque

Comfort wire designed to be easy on teeth and gums and bends for hard-to-reach areas of your mouth Flexible handle that holds position when bent

Minty flavour that leaves your mouth feeling fresh

Advanced fluoride coating that helps to protect teeth from decay

Antimicrobial brush caps keeps brush clean between uses and fits onto the grip, extending the handles reach
Available in:
 ISO 1 (0.45mm), ISO 2 (0.5mm), ISO 3 (0.6mm), Starter Mixed packs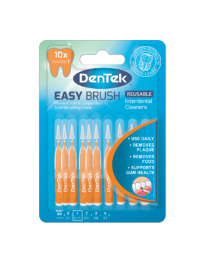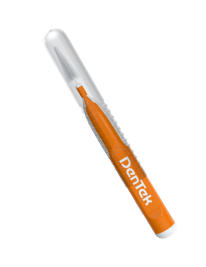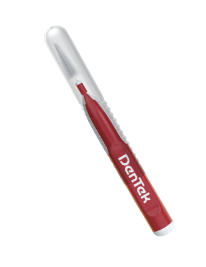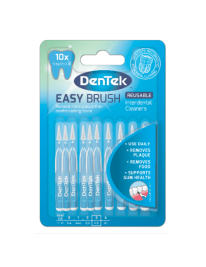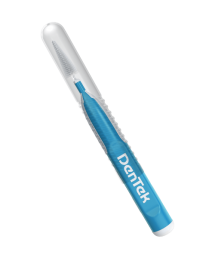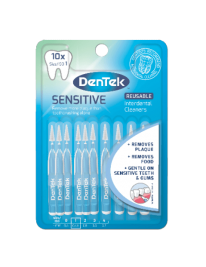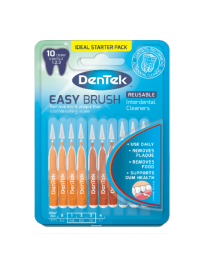 Additional information
Where to buy
Directions for use
Reviews
Additional information
DenTek Easy Brush interdental cleaners can make a useful addition to your regular oral hygiene routine. By removing food and plaque from tight spaces, they help to prevent gum disease and tooth decay, and can leave your mouth feeling fresher. You might wish to use these interdental brushes as an alternative to dental floss. Some people find the brushing motion easier than flossing.
Where to buy
Directions for use
Insert between teeth, interdental spaces, or dental appliances.
Use a soft back-and-forth motion to remove plaque and food particles.
Rinse after use.
Replace when bristles become worn.
Reviews
These are great, can bend but the brush is good. Have on monthly order
char❤ben34
Easy to use interdental brushes that don't break away after a few seconds like some brands.
Despina
Great value for money – Started to using these teeth brushes after recommended by my dentist.
Tried few brands, different types and sizes, but these are the best for me!
Already bought these brushes few times and will definitely buy again, great value for money 🙂
Zuzana
Cannot be without these
Good price. I always buy few packets at time.
snow2008
Easy to use and keep teeth in best shape
AZ customer
Good does the job – cheaper than some others. Does these job.
R. W. Robinson
Additional information
Where to buy
Directions for use
Reviews
Additional information
Where to buy
Directions for use
Reviews
Additional information
Where to buy
Directions for use
Reviews
Additional information
Where to buy
Directions for use
Reviews
Additional information
Where to buy
Directions for use
Reviews
Additional information
Where to buy
Directions for use
Reviews
Additional information
Where to buy
Directions for use
Reviews
Additional information
Where to buy
Directions for use
Reviews