DenTek Comfort Clean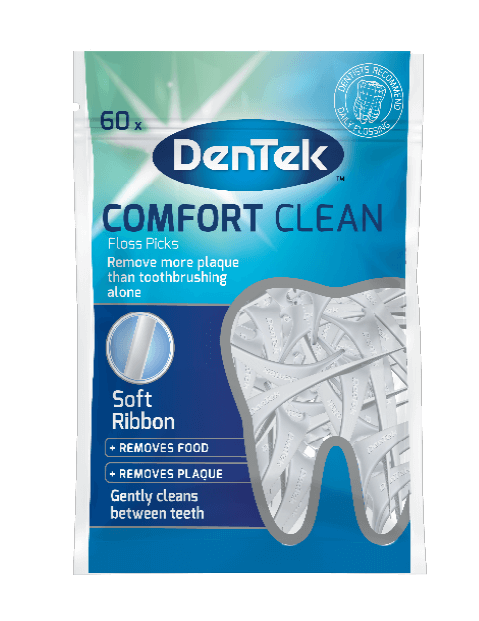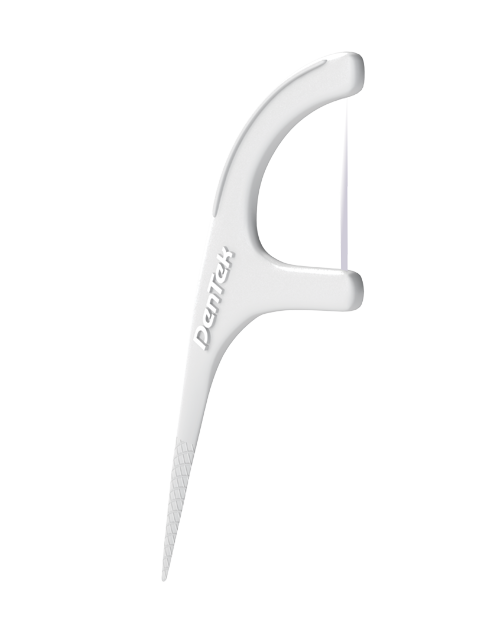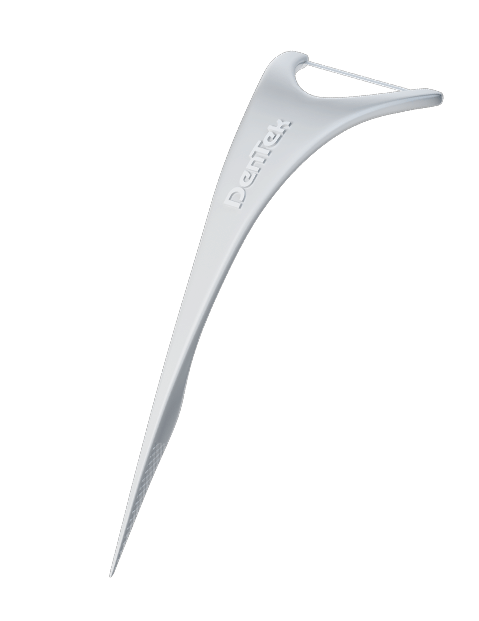 DenTek Comfort Clean
Comfort Clean Easy Reach
Comfort Clean
Alongside regular brushing, flossing is an important part of oral hygiene. However, this is not always easy if you have particularly tightly-set teeth that make using traditional dental floss or interdental brushes difficult. Intended for those with tight teeth and/or sensitive gums, DenTek Comfort Clean Floss Picks provide a gentle yet effective way to remove food particles and plaque by reaching those hard to reach spots that brushing may miss. Helping to ensure your oral hygiene is properly cared for, flossing can lower the risk of cavities and gum disease and improve general dental health. 
Product Features & Key Benefits
Great for sensitive teeth and gums

Expertly developed gentle silk floss for easy cleaning between extra tight teeth

Floss comfortably removes plaque and food particles for an exceptional clean

Angled, triangulated heads to make reaching back teeth easy 

Inbuilt textured picks for double cleaning power to effectively remove food and plaque 

Mint flavour for fresh breath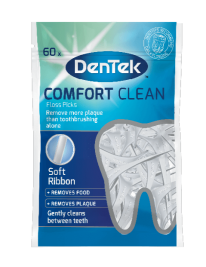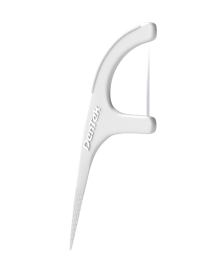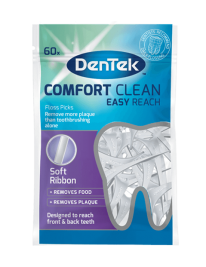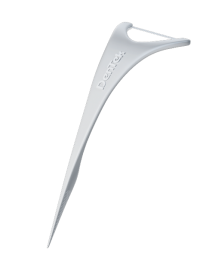 Additional information
Where to buy
Directions for use
Reviews
Additional information
DenTek Comfort Clean Floss Picks have been expertly developed to make use of extra-strong yet thin and silky flossing bands that have been designed with ergonomics in mind. With angled, triangulated heads to make reaching back teeth and other troublesome spots as easy as possible, as well as inbuilt textured picks to help dislodge food wedged in tight gaps, these floss picks provide a gentle way to help you fight gum disease and ward off bad breath. 
Coated in fluoride and with a minty flavour designed to freshen breath, these extra-thin floss picks for tight teeth can also be used to clean the tongue. Check out our selection of specialist flossers and other dental products today, and discover more about our full range of oral care products. 
Where to buy
Directions for use
Flossing Instructions:
Gently slide floss up and down between teeth allowing the floss to wrap around teeth.
Clean above and below the gum line.
Rinse as necessary.
Pick Instructions:
Place pick between teeth and gently press against the gum.
Use an in and out motion to remove food particles and stimulate gums.
Rinse as necessary.
Tongue Cleaning Instructions:
Extend your tongue.
Place the Tongue Scraper on the back of your tongue and pull forward, skimming the surface of your tongue.
Rinse as necessary.
Reviews
Superb yet simple design which works well

I'm really pleased with these floss sticks. I've tried several others but for me these are the best. I like them because:
A) the floss part is strong and it's easy to reach the back teeth
B) the handle doubles as a tooth pick
c) the handle as a raised edge which can be used a tongue scraper

Fiddler Anne
The best floss picks around!
These floss picks are the very best for those of us with tight spaces between our teeth. My teeth are so close together even my dentist struggles, and i have rarely found any tape that will work effectively for them.
Ophelia Morganna
These bad boys make you want to floss!
Always good. much better than any floss you can get from more well known brands. These ones slide between your teeth easily.
AZ
Arrived quickly. These floss picks are the best I've ever used. Previous ones had very thin tight floss in them that could but my gums. But they are made of a wider silk floss. Much kidner to my gums. They are thin enough to get between my tightest of teeth and work very well. The pick end is great for getting in the wider gaps. i tend to use one for the bottom teeth and another for the top and they work perfectly. I've had no problem with these floss picks and would buy again.
Janey
Additional information
Where to buy
Directions for use
Reviews
Additional information
Where to buy
Directions for use
Reviews
Additional information
Where to buy
Directions for use
Reviews
Additional information
Where to buy
Directions for use
Reviews