DenTek 3-in-1 Floss Picks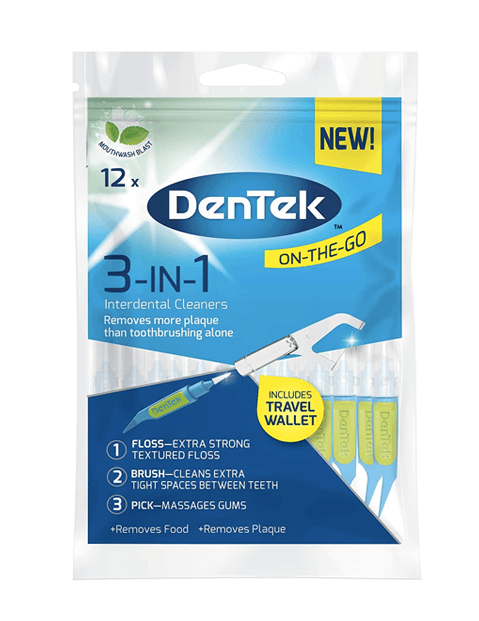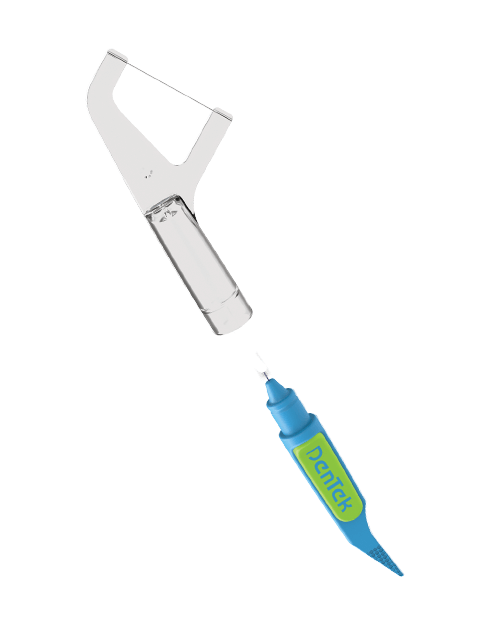 DenTek 3-in-1 Floss Picks
Sticking to your usual dental health routine can be difficult when you travel, especially if your lifestyle or career demands that you're regularly on the move. But with DenTek's 3-in-1 On-The-Go Floss Picks – our multi-functional interdental cleaning solution – it's easy to stay on top of your oral hygiene, regardless of whether you're on the road or in the comfort of your own home. 
Key Benefits
3 in 1 on the go solution! Floss. Brush. Pick.

Extra strong textured floss 

Slim interdental brush deep cleans and fits between extra tight teeth

Sturdy thin pick to dislodge food particles and massage gums

Floss is mint flavoured and features a fluoride coating

Ideal for use on the go with travel wallet included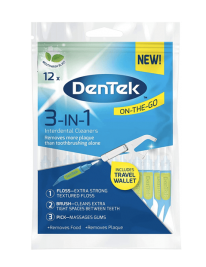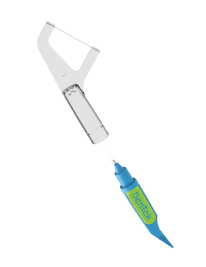 Additional information
Where to buy
Directions for use
Reviews
Additional information
These expertly designed travel floss picks help to remove plaque and small pieces of food that may have built up between your teeth throughout the day, and can help to prevent both tooth decay and bad breath. 
Our 3-in-1 On-The-Go Floss Picks feature interdental brushes and clever non-slip grips that allow for easy handling and manoeuvring, and they provide three separate cleaning solutions. Firstly, the extra-strong shred-resistant floss filaments with an advanced fluoride coating enables you to clean between your teeth, removing food particles and plaque in areas of your mouth that a regular toothbrush may miss. Secondly, the slim interdental brush contained within the tool facilitates deep cleaning of the gaps between teeth. Finally, the sturdy, thin pick makes it easy to dislodge awkward food particles and can help to stimulate your gums.  
Where to buy
Directions for use
Flossing Instructions:
Gently slide floss up and down between teeth allowing the floss to wrap around teeth.
Clean above and below the gum line.
Rinse as necessary.
Pick Instructions:
Place pick between teeth and gently press against the gum.
Use an in and out motion to remove food particles and stimulate gums.
Rinse as necessary.
Tongue Cleaning Instructions:
Extend your tongue.
Place the Tongue Scraper on the back of your tongue and pull forward, skimming the surface of your tongue.
Rinse as necessary.
Reviews
I have tried many tooth interdental brushes and picks over the years and these are without doubt the best I have tried.

These are the first ones I have tried that are coated with a mint fluoride coating and I have to say they are brilliant!

The floss is really strong and does snap like some I have tried, the pick is great for getting bits trapped between the teeth out and the interdental brush is strong and got inbetween every tooth with bending – which I think is a first!

The minty coating is a bonus and really leaves your mouth nice and fresh like you have just brushed your teeth! I love them!!!
Bruno F.
Many people, myself included, have now realised that brushing your teeth is not enough when it comes to preventing gum disease, tooth decay and bad breath. We really need to additionally floss and/or use interdental brushes – to remove plaque and food debris from those hard to reach areas between the teeth.

My dental hygienist recommended that I daily use floss and use interdental brushes to help maintain healthy teeth and gums. For me, it meant using two sizes of brushes and a roll of flossing tape. Using these 3-in-1 cleaners is a much easier and practical option – and I really like em! A small travel pouch is included to allow you to hygienically store one in your purse/bag, whilst the others can be kept in the re-sealable bag they are packaged in. This is an excellent, practical product which I can unreservedly recommend.
Siltone
Dentek 3-in1 Interdental Cleaners – Brush, Floss and Pick for On The Go Oral Hygiene, 33g is a good quality tooth cleaning implement as not only are they an interdental brush but they also are a floss as well as a toothpick. This three in one product makes them perfect implement to have close by especially if out for a meal as there is nothing as annoying as a bit of meat getting stuck between teeth.
They are a perfect discreet size as well as perfect for the closest of teeth which can cause a bit of strife for thicker floss etc.
An excellent way of keeping teeth clean and fresh in between brushings etc, whether you are at home or away from home these are a great alternative for using three separate products.
Happy to recommend.
Petra
I really like these. I didn't really use the brush, but I found the string bit really handy after brushing to get between my teeth, clearing out anything that had gathered in the small spaces. THen the other end can be used to help move bits stuck. Its the kind of thing you could really do with in your bag when out for a meal, to use in the bathroom. Luckily, there is a small plastic pouch in the packet perfect for taking one or two out with you. Very useful product.
A John