DenTek First Aid Kit – Emergency Tooth Repair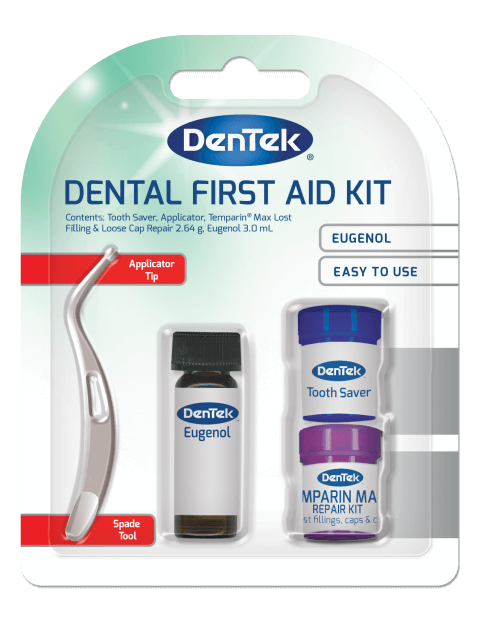 DenTek First Aid Kit – Emergency Tooth Repair
No matter how careful you are, accidents do happen. From dislodged teeth to loose caps and crowns, a dental emergency could be just around the corner. Our Dental First Aid Kit is there to provide you with a quick and convenient short-term fix for replacing a lost tooth filling cap, crown or inlay. It can help to restore function until you're seen by a dentist.  
Product Features & Key Benefits
Temporary filling kit for replacing a lost filling cap, crown or inlay

Eugenol – helps to anaesthetise and disinfect the affected area

Applicator and spade tool for ease of application

Tooth saver vial provided for protecting broken or whole teeth 

The temporary filling material uses the same ingredients used by dentists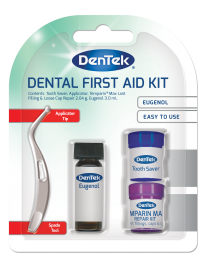 Additional information
Where to buy
Directions for use
Reviews
Additional information
Caution: To avoid infection and/or serious injury, this product should not be used if there is throbbing pain, ulceration or swelling in the affected area. If any of these symptoms exist, consult your dentist immediately. This product should not be placed on open wounds. Do not swallow. Do not use if allergic to Eugenol. READ ALL OF THE DIRECTIONS CAREFULLY BEFORE USE. Wash and dry your hands. Use only what is needed to repair the dental emergency, and save the rest for a future application. Keep out of reach of children. Do not get into eyes
Tooth Saver: If tooth is dislodged, collect the tooth and do not try to clean it, there could be important soft tissue that will help in the healing process. Fill Tooth Saver container with milk or your own saliva. Place broken or whole tooth in container making certain that milk or saliva is completely covering tooth. Contact your dentist immediately. Chances of successful replantation are best if you see the dentist within 1 hour of incident.
Temparin Max : This is a temporary remedy meant to replace a lost filling, cap, crown or inlay until you have a chance to visit your dentist and should only be removed by a dental professional. Visit dentist within 48 hours of use. If irritation persists, inflammation develops, or if fever and infection develop stop use and ask a dentist or doctor.
Where to buy
Directions for use
Directions to replace a lost filling: Wash the cavity area with warm water to remove food particles. Saturate tip of a fresh cotton swab applicator with liquid from the Eugenol vial and apply to tooth. Avoid touching surrounding gum tissue, cheek, or tongue with wet applicator tip. Do not leave applicator in mouth. The Eugenol will help the filling material set up and adhere to the tooth enamel. Cut with spade tool or pinch a small amount of Temparin Max from the vial, and roll into a ball between fingers. Slightly overfill the cavity with Temparin Max and tamp into place with applicator tool tip. Close your teeth together, as if you were biting down on a piece of paper, and gently chew or grind on the replaced filling a couple times to create a comfortable bite. Use a moist cotton swab to remove excess Temparin Max from around the area. Moisture will accelerate the set. Temparin Max will set softly in your mouth within a few minutes, but avoid chewing on the repair for 2-3 hours to allow the material to fully set.
Directions to secure loose crowns, caps, or inlays: Try the crown, cap, or inlay first to see if you can fit it accurately back onto the tooth surface. If you are not able to do so, or if remaining tooth is cracked, then do not proceed further. If the crown has a post attached to it or if there is tooth surface remaining inside the crown, Temparin Max may not adhere. Carefully rinse the tooth area and the inside of the crown, cap, or inlay with warm water, and do not dry. Cut with spade tool or pinch a small amount of Temparin Max from the vial, roll into a ball between fingers, and place evenly inside the crown, cap, or inlay. Place the crown, cap, or inlay on the tooth and bite down, applying pressure to push into position. Temparin Max will begin to harden within a few minutes, but avoid chewing on the repair for at least 2-3 hours to allow the material to set. Use a toothbrush to gently clear any excess material from around the crown, cap, or inlay.
Ingredients for Temparin Max: Zinc Oxide Powder, Calcium Sulphate, Petroleum Jelly, Potassium alum, Paraffin, Aluminum Sulphate, Aluminum Phosphate, Menthol Crystals, Eugenol, Yellow Iron Oxide
Ingredients for Eugenol: Eugenol, Sesame Oil
Reviews
The current Corona-virus crisis has a lot of us doing things we never thought we would and DIY dentistry is one of them! I had a filling drop out (whilst eating a rather succulent lamb cutlet we had cooked on the BBQ) and whilst I wasn't in any pain it was going to be some time before I could see a dentist. After reading a few reviews we thought we'd try this kit on the basis it was unlikely to do any harm. If there was a disappointment it was in the length of time it took to arrive (more than10 days) but once here Mrs M gamely said she'd give it a go. It was quite easy despite her trepidation and the temporary filling is still in situ a week later. Let's hope it last a good deal longer …
Mobiscum
Sceptical as I've used stuff like this before and they didn't work. However this has the bonding agent which others didn't.
I had a filling fall out and needed something as the dentist isn't open. The bonding agent smells (and tastes) like a really strong clove oil. It makes you really salivate so prepare for drooling! I don't think this would work for a chipped tooth as I don't think there would be enough grip to stay put. But as I've got the hole drilled by a dentist so there is a good area to stuff the putty into if that makes sense. Just put the bonding agent in the hole and stuff the putty in with the tool. Bite and grind to smooth. I did mine last thing at night after a good brush and clean out of the hole and next morning it was set. It's been in for a couple of weeks now. Able to eat on it. Brush and it's not moved yet. I understand it's a temporary fix, but before I could not bite on that side due to pressure pain (no pain without biting on it) and now I can with no pain.
For a temp fix in these times it's a great product and does the job
Hayles
Ideal emergency kit at this time of health crisis
M.K
The kit was easy to use and has stayed in place for a couple of weeks now with no issues. However the eugenol you dab the tooth with before applying the putty is very pungent and leaves a strong smell and taste in the mouth which is unpleasant whilst you're applying the filling. If you have a drink of water straight after it clears, so no real issue. You need much less putty than you'd think, so there are plenty of uses in this kit. Great value and has saved all tooth ache and sensitivity!
Lauren
This literally is a life saver when you have a broken tooth or fallen out filling and are in a lot of pain. It's a temporary solution but lasts long enough until you see your dentist.
Ushhh_HQ
Never knew that it was existed! I had to buy it during lockdown where I had a broken filling. Its doing a really good job! I was told that it lasts for a couple of days, but on my tooth last for a week! Then I gad to apply it again! Bought 2 and i used 1 1/2 of them during a 2months period! Totally recommend it!!! Now that I know it exists such an amazing thing, I will make sure that I always have one in case of emergency
Eirini
I had read lots of reviews about this item, and tried it this morning. So far so good! When it says a small amount, it really does mean tiny. Impressed with how easy it was. Will definitely keep as part of the household emergency supply!
Milliemoo
With no dentists working under Covid 19 lockdown it was a great help in fixing the sharp remains of a broken tooth.
Allun John