DenTek Comfort Fit Dental Guards 2 Pack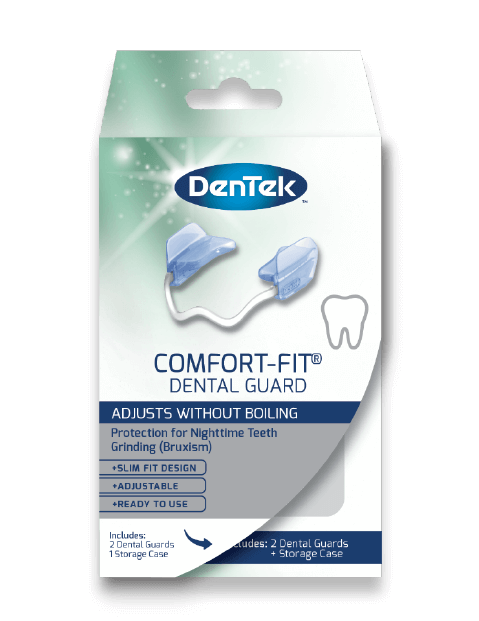 DenTek Comfort Fit Dental Guards 2 Pack
 If you're looking for a teeth grinding mouth guard that is comfortable to use, DenTek has the solution. Introducing the Comfort Fit Mouth Guard for Teeth Grinding, which is designed to provide a cushioned layer of comfort between your upper and lower teeth. Teeth grinding, also known as bruxism, occurs most often during sleep but it can also happen when a person is concentrating or affected by stress. Symptoms can include headaches, facial pain, earache and pain and stiffness in the jaw. In some cases, it can even cause teeth to wear down or fall out. Often people who grind their teeth don't know they're doing it until symptoms start to manifest.
If you suspect you may be suffering from bruxism, a teeth grinding dental guard can help. While many guards on the market can be bulky and uncomfortable to wear, we've created the Comfort Fit Mouth Guard for Teeth Grinding to be convenient, comfortable and easy to use.
Product Features & Key Benefits
Ready to use – easily adjustable fit requires no heating or moulding

Durable non-bulky bite pads separate and protect teeth

Hardwearing, slim bite pads designed to separate and protect teeth

Comfortable retention wall improves retention to keep guard in place during use

Ultimate convenience – ready to use straight away unlike other mouth guards.

Adjustable band – one size fits most mouths with an easy 5-point adjustment system for the perfect fit

Provided with hinged storage case that protects the guard while not in use

Contains no BPA, latex or silicone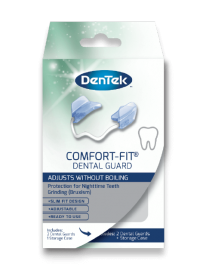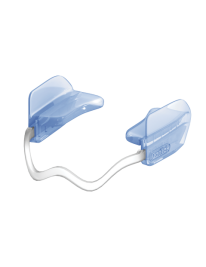 Additional information
Where to buy
Directions for use
Reviews
Additional information
Where to buy
Directions for use
Fitting Instructions:
What You Need To Begin:
Bowl of room temperature water
Metal Fork
Mirror
Microwave or stove
Microwaveable bowl or stove pot
Timer
Step 1: Test Fitting
The dental guard must be loaded into the forming tray.
The dental guard is positioned correctly when the top of the dental guard is concave.
If it is not in the right position, correct the placement of the dental guard before going any further in the fitting process.
Start by placing the dental guard and forming tray below your upper teeth and bite down.
Look in a mirror to make sure the forming tray is centred in the middle of your front two teeth.
Your teeth should be aligned in the middle of the mouldable material.
Step 2: Final Fitting
Using a microwave or stove, bring a bowl or pot of water to a rolling boil.
Water should be at least 1.5 inches deep.
Remove the boiling water from heat source and let it rest for 10 seconds.
Use caution when removing from heat.
Place the dental guard while loaded in the forming tray face down in the hot water for 60 seconds.
Remove the dental guard and forming tray with a metal fork, using the openings in the tray handle.
Quickly dip it in room temperature water (no more than 1 second).
Immediately pick up the dental guard by the forming tray handle and carefully place in your mouth.
Do not bite down yet.
While looking in a mirror, centre the dental guard below your front two teeth and the sides below your molars.
Firmly bite down into the mouldable material of the dental guard and hold until it cools to body temperature.
Wait at least 2 minutes.
Gently remove the dental guard and forming tray from your mouth and rinse under cool water for 20 seconds.
This allows the moulded dental guard to completely set in the forming tray.
Once cool, remove the dental guard from the forming tray.
Start by gently pulling the ends from each side of the forming tray, then working around to the front. It is normal for the dental guard to slightly stick in the forming tray.
Your dental guard is now ready for use.
Cleaning and Care
After each use, brush your dental guard with toothpaste and/or mouthwash.
Thoroughly rinse with cool running tap water.
Never use hot water as it could alter the shape of your dental guard.
Replace your Maximum Protection Dental Guard when it has worn through.
Check your dental guard monthly for wear.
The life of your dental guard depends on how often you grind and the force of your teeth grinding.
Your dental guard can last up to six months.
Reviews
I have tried so many mouthguards and this by far is the best and most comfortable. TMJ is not a joke and the pain is awful. I have started to very quickly manage this using the guard. Its great that you get 2 guards and a handy carry pouch too. I would and do highly recommend this product.
Stuart Mason Clarke
Perfect product – Absolutely fantastic product, if I could of designed my own mouth guard this would of been it! Comfortable, non-bulky, Does the job!! Best mouth guard I have tried…and that has been a lot, including made to measure ones from the dentists!
Amazon Customer
Perfect for my small mouth and sensitive front teeth. The boil-and-mold night guard that I first tried put a lot of pressure on my front teeth.
This just holds your back teeth apart with two soft, rubbery pads. The thin piece that holds the pads together that sits at the front of your lower teeth, it is a little sharp and irritated my gums at first but now it is fine.
I have a lot less pain in my teeth and face now, and also my neck and shoulders are less stiff and sore!
Recommended for people with small mouths who haven't had luck with full-coverage night guards! 🙂
Amazon Customer
Comfortable and almost invisible
Very slim and comfortable. I use it at night because I am grinding my teeth. I can Hardly see I am wearing it.
Vanessa Morel