Dentek Fresh & White Zahnseide-Sticks Mit Aufhell-Effekt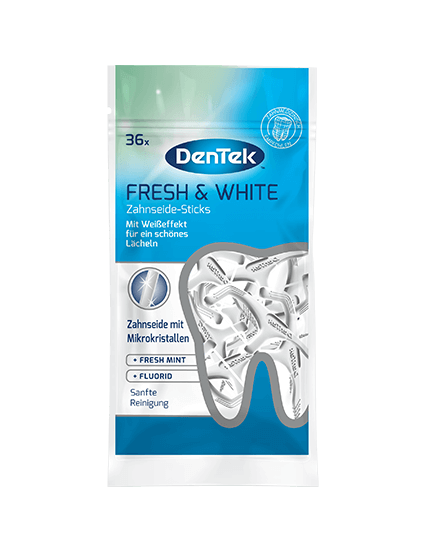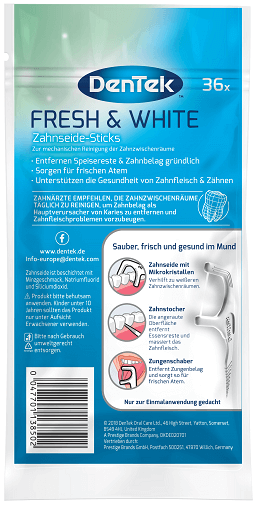 Dentek Fresh & White Zahnseide-Sticks Mit Aufhell-Effekt
Bringen Sie Ihre Zahnhygiene auf die nächste Stufe mit unseren DenTek Fresh & White Zahnseide-Sticks. Diese innovativen Sticks enthalten aufhellende Mikrokristalle, um Ihre Zähne optimal aussehen zu lassen. Die speziellen Inhaltsstoffe wurden entwickelt, um die Zahnzwischenräume aufzuhellen und so Ihr Lächeln mehr strahlen zu lassen.
Wesentliche Vorteile
3 Reinigungsfunktionen mithilfe von Zahnseide, Zahnstocher und Zungenschaber
Die feine Seide mit Mikrokristall-Beschichtung entfernt sanft Verfärbungen und sorgt für eine Aufhellung der Zahnzwischenräume
Der Zungenreiniger hilft, Bakterien zu entfernen und sorgt so für einen selbstbewussten, frischen Atem
Entfernt effektiv Plaque und Speisereste für eine gründliche Reinigung
Minz-Geschmack für ein besonders sauberes Gefühl
Die Fluoridbeschichtung hilft, Karies vorzubeugen
Wählen Sie DenTek Fresh & White Zahnseide-Sticks für eine Zahnpflege, die Ihre Mundgesundheit schützt und Ihr Hollywood-Lächeln hervorzaubert.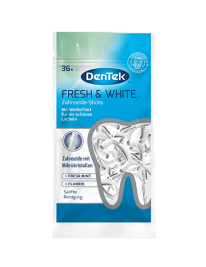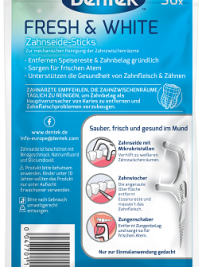 Zusätzliche Informationen
Wo zu kaufen
Gebrauchsanweisung
Bewertungen
Zusätzliche Informationen
Wo zu kaufen
Gebrauchsanweisung
Anwendungshinweise Zahnseide:
Führen Sie die Zahnseide vorsichtig zwischen den Zähnen auf und ab (nur mittlere bis große Lücken) und lassen Sie die Zahnseide um die Zähne wölben.
Reinigen Sie oberhalb und unterhalb des Zahnfleischrands.
Bei Bedarf mit Wasser reinigen.
Anwendungshinweise Zahnstocher:
Setzen Sie den Zahnstocher zwischen die Zähne und drücken Sie sanft gegen das Zahnfleisch.
Verwenden Sie eine Hin- und Herbewegung, um Nahrungsreste zu entfernen und das Zahnfleisch zu stimulieren.
Bei Bedarf mit Wasser reinigen.
Anwendungshinweise Zungenreiniger:
Strecken Sie Ihre Zunge heraus.
Legen Sie den Zungenschaber auf den Zungenrücken und ziehen Sie ihn nach vorne, um die Oberfläche der Zunge zu reinigen.
Bei Bedarf mit Wasser reinigen.
Bewertungen
I find that a lot of flossers are not fit for purpose these days and break on use. These bad boys are good quality and do the job.
Cov Kid
I bought these because I couldn't get the silky tape floss I used to get from Boots. Very happy with how these turned out. Almost identical. Very good quality.
its-a-magic-world
I like the fact that the silky floss cleans well although mint flavour is ok. nice whiten between teeth amazing
ruba hashem
Not much you can say about a dental stick. They do the job. Delivery was swift.
Caroline
New and Improved – Unlike 'own brand' flossers, dentek's are much less likely to break but, the odd one would. When I opened these flossers, the floss looked thicker than usual and I haven't had a single one break on me so far.
Bangle