DenTek Easy Brush
DenTek Easy Brush
ISO 0 (0.4mm)
ISO 1 (0.45mm)
ISO 2 (0.5mm)
ISO 3 (0.6mm)
Multi
Wenn Sie eine schnelle und einfache Möglichkeit suchen, die schwer zugänglichen, engen Stellen in Ihrem Mund zu reinigen, könnte die DenTek Easy Brush eine praktische Lösung sein. Diese Produkte sind mit einer dünnen, langlebigen, konisch zulaufenden Bürste ausgestattet, die speziell für die Reinigung enger Stellen entwickelt wurde. Sie helfen Ihnen, Nahrung und Plaque aus den Zahnzwischenräumen zu entfernen und Zahnspangen, Brücken, Kronen, Implantate und andere Zahnapparate hygienisch sauber zu halten.
Wesentliche Vorteile & Produktmerkmale
Konische Bürste, ideal für enge Zwischenräume und zur effektiven Entfernung von Speiseresten und Plaque
Komfort-Draht, der Zähne und Zahnfleisch schont und sich für schwer zugängliche Stellen im Mund biegen lässt
Flexibler Griff, der beim Biegen in Position bleibt
Minz-Geschmack für ein frisches Gefühl im Mund
Fluoridbeschichtung, die die Zähne vor Karies schützt
Antimikrobielle Bürstenkappen halten die Bürste zwischen den Anwendungen sauber und passen auf das Griff-Ende, sie dient perfekt als Verlängerung des Griffs
erhältlich in:
 ISO 0 (0,4mm), ISO 1 (0.45mm), ISO 2 (0.5mm), ISO 3 (0.6mm)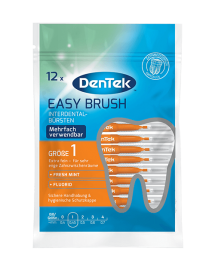 Zusätzliche Informationen
Wo zu kaufen
Gebrauchsanweisung
Bewertungen
Zusätzliche Informationen
DenTek Easy Brush sind eine sinnvolle Ergänzung Ihrer täglichen Mundhygiene. Indem sie Speisereste und Plaque aus engen Zwischenräumen entfernen, helfen sie, Zahnfleischerkrankungen und Karies vorzubeugen, und sorgen für ein frischeres Gefühl im Mund. Vielleicht möchten Sie diese Interdentalbürsten als Alternative zu Zahnseide verwenden. Manche Menschen finden die Bürstenbewegung einfacher als die Verwendung von Zahnseide.
Wo zu kaufen
Gebrauchsanweisung
1.Zwischen die Zähne, Zahnzwischenräume oder Zahnspangen einführen.
2.Mit einer sanften Hin- und Herbewegung Plaque und Speisereste entfernen.
3.Nach Gebrauch ausspülen.
4.Auswechseln, wenn die Borsten abgenutzt sind.
Bewertungen
These are great, can bend but the brush is good. Have on monthly order
char❤ben34
Easy to use interdental brushes that don't break away after a few seconds like some brands.
Despina
Great value for money – Started to using these teeth brushes after recommended by my dentist.
Tried few brands, different types and sizes, but these are the best for me!
Already bought these brushes few times and will definitely buy again, great value for money 🙂
Zuzana
Cannot be without these
Good price. I always buy few packets at time.
snow2008
Easy to use and keep teeth in best shape
AZ customer
Good does the job – cheaper than some others. Does these job.
R. W. Robinson
Zusätzliche Informationen
Wo zu kaufen
Gebrauchsanweisung
Bewertungen
Additional information
Where to buy
Directions for use
Reviews
Zusätzliche Informationen
Wo zu kaufen
Gebrauchsanweisung
Bewertungen
Additional information
Where to buy
Directions for use
Reviews
Zusätzliche Informationen
Wo zu kaufen
Gebrauchsanweisung
Bewertungen
Additional information
Where to buy
Directions for use
Reviews
Zusätzliche Informationen
Wo zu kaufen
Gebrauchsanweisung
Bewertungen
Additional information
Where to buy
Directions for use
Reviews
Zusätzliche Informationen
Wo zu kaufen
Gebrauchsanweisung
Bewertungen
Additional information
Where to buy
Directions for use
Reviews