DenTek Cross Flosser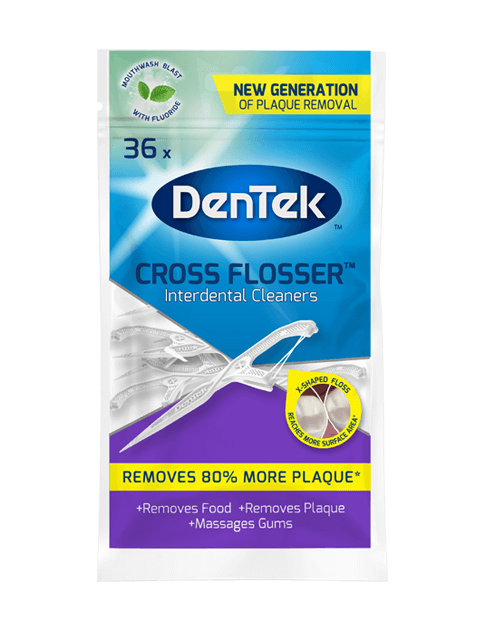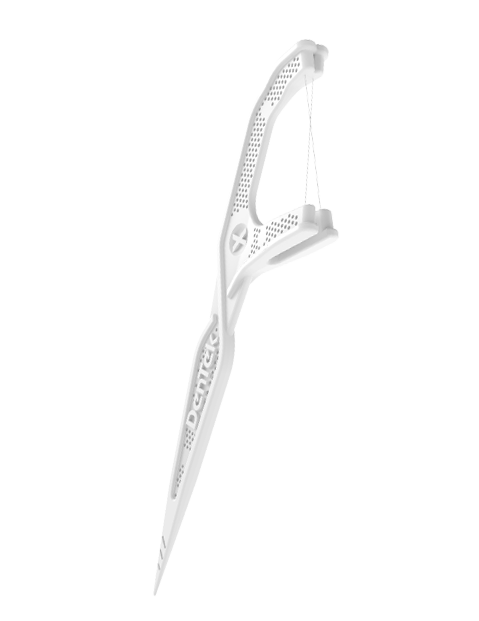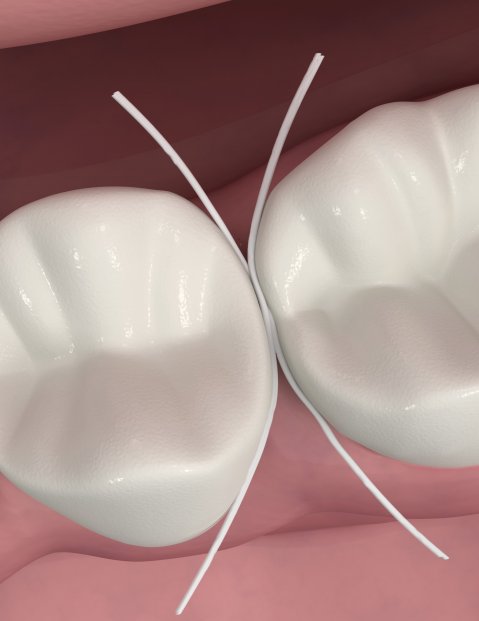 DenTek Cross Flosser
Our most innovative and advanced floss pick to date, the DenTek Cross Flosser benefits from a unique design that has been clinically proven to remove 80 per cent more plaque from between teeth than the leading rolled floss*.
Developed to help lower the risk of cavities and gum disease, the Cross Flosser ideal for medium to large gaps uses its distinctive cross-shaped floss design to tightly hug teeth during use. This provides more curvature than a typical floss pick and helps the user reach a larger surface area of each tooth, aiding in the effective removal of plaque and food particles. 
Product Features & Key Benefits
Clinically proven to remove 80% more plaque*

Extra strong, textured floss curves around teeth to remove food and plaque for an exceptionally clean feeling

2 cleaning actions for a more complete clean**

Innovative cross floss reaches more surface area

X shape floss ideal for medium to large gaps effectively removes more food and plaque and gently massage gums

Inbuilt textured pick to dislodge food particles and plaque

Mint flavour for added freshness

Fluoride coating

Textured pick end

Features scaling tool for additional plaque and stain removal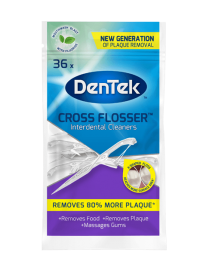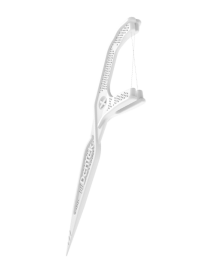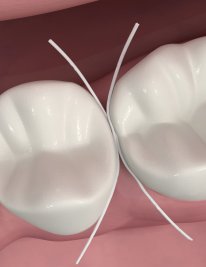 Additional information
Where to buy
Directions for use
Reviews
Additional information
The DenTek Cross Flosser also has an ergonomically designed handle that allows for easy grip and manoeuvring during use.
Additionally it features an inbuilt textured pick located at the bottom of the tool that can be used instead of a traditional toothpick to help further remove food and plaque in particularly hard to reach areas of your mouth.
Aside from assisting in the removal of plaque and lodged food, this unique X-shaped floss pick can also help to massage the gums.
This additional stimulation can assist in preventing gum disease and tooth cavities, helping to improve your overall oral hygiene and dental health.
To discover more about our full range of specialist floss picks and other oral care products, browse our website or get in touch with our team today.
*Compared with leading US brand of rolled floss. Based on laboratory study with artificial plaque between molars and pre molars.  Data on file.
** Compared to toothbrushing alone
Caution: Do not force in tight space.  Children must be under adult supervision.
Where to buy
Directions for use
Flossing Instructions:
Gently slide floss up and down between teeth allowing the floss to wrap around teeth.
Clean above and below the gum line.
Rinse as necessary.
Caution: Do not force in tight space.  Children must be under adult supervision.
Pick Instructions:
Place pick between teeth and gently press against the gum.
Use an in and out motion to remove food particles and stimulate gums.
Rinse as necessary.
Reviews
So efficient I love these, they're more effective than regular flossing pics and the taste is really nice
CM
THESE ARE AWESOME! I never knew what I was missing! I will never use anything else. The cross floss gets EVERYTHING!!!! Teeth feel thoroughly flossed! PLEASE don't stop making them!!!!
M.R.
I've been using this newer design for about a week and I definitely like it. The hint of mint makes it pleasant and I do feel that the x design helps clean more.
Judith G.
I don't typically leave reviews but I feel like I should for this product. This floss makes your teeth feel amazing. Best floss I've used. Fits between my teeth. I have a smaller mouth than normal and I had no problems. If my teeth were any tighter, I can see the issue. But they worked perfect for me. Will be getting again for sure
Amanda Lee
My dental hygienist tried to persuade me to use these, instead of dental floss. I was skeptical, but when I saw them on Vine, I thought I'd give them a try. They do seem to floss my teeth effectively, but to really know I'd have to use them for months, then go for another dental cleaning. My mouth feels cleaner though.
A. J Terry