DenTek Eco Triple Clean Floss Picks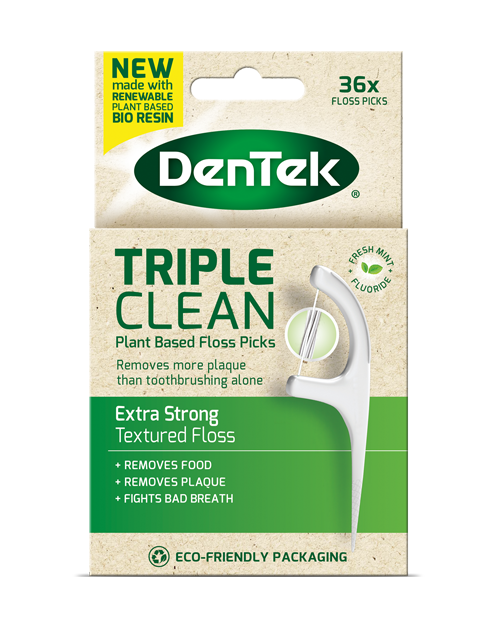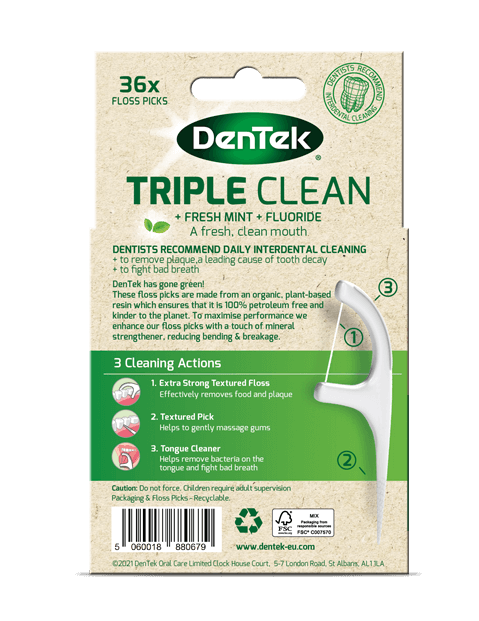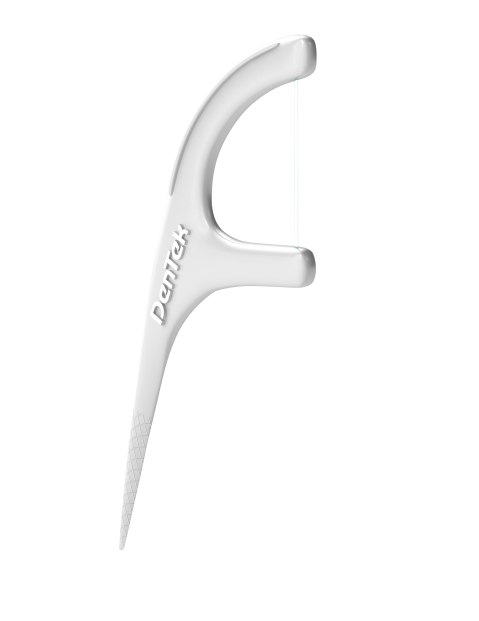 DenTek Eco Triple Clean Floss Picks
Based on our popular Triple Clean Floss Pick, we introduce a pick that boasts all the same benefits but with great environmental credentials too. The DenTek Eco Triple Clean Floss Pick delivers the deep-clean results you've come to expect from the original but thanks to the use of more sustainable materials, this floss pick is kinder to the planet. They are composed of 200+ individual scrubbing strands of floss so it scrubs with extra nooks and ridges. Our thinnest, strongest floss gets into even the tightest spaces and works on tight teeth.
Its handle is made using bio-based plastic (produced from a raw material derived from sugar cane plants). By using this renewable material rather than fossil oils, these flossing aids help reduce carbon emissions by up to 80% in comparison to conventional plastic, in addition to helping you to keep your teeth and gums in optimal condition.
Same great DenTek quality but kinder for the planet.
Key Benefits
Extra strong, multi-filament textured floss

Effectively removes plaque and food particles for an exceptionally clean feeling

Mint flavour for added freshness

Contains fluoride coating

Textured pick for double cleaning power

Pick gently massages gums to help prevent gum disease

Tongue cleaner removes bacteria from the tongue, helping to fight bad breath

GMO Free – this means once disposed off they do not harm the environment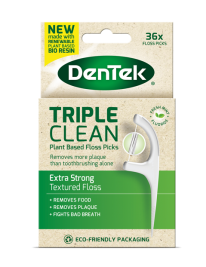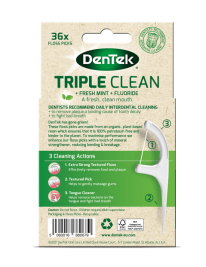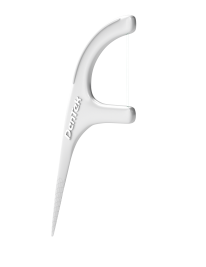 Additional information
Where to buy
Directions for use
Reviews
Additional info
As well as the easy-to-use textured floss, DenTek Eco Triple Clean Floss Picks provide a second cleaning action thanks to their textured pick. This can be used to remove large food particles that are stuck between your teeth or along your gum line. The pick also gently massages and stimulates your gums, which can help to prevent gum disease.
These Dentek floss picks with triple clean action also have a tongue cleaner that helps to fight bad breath by removing bacteria from this part of the mouth. Simply use this feature to lift and scrape bacteria away from the grooves in your tongue.
 All the products in our floss picks range are designed to make dental flossing easy. Check out our full selection today, and if you have questions about any of these products, don't hesitate to contact us.
Where to buy
Directions for use
Flossing Instructions:
Gently slide floss up and down between teeth allowing the floss to wrap around teeth.
Clean above and below the gum line.
Rinse as necessary.
Pick Instructions:
Place pick between teeth and gently press against the gum.
Use an in and out motion to remove food particles and stimulate gums.
Rinse as necessary.
Tongue Cleaning Instructions:
Extend your tongue.
Place the Tongue Scraper on the back of your tongue and pull forward, skimming the surface of your tongue.
Rinse as necessary.
Reviews