DenTek Eco Cross Flosser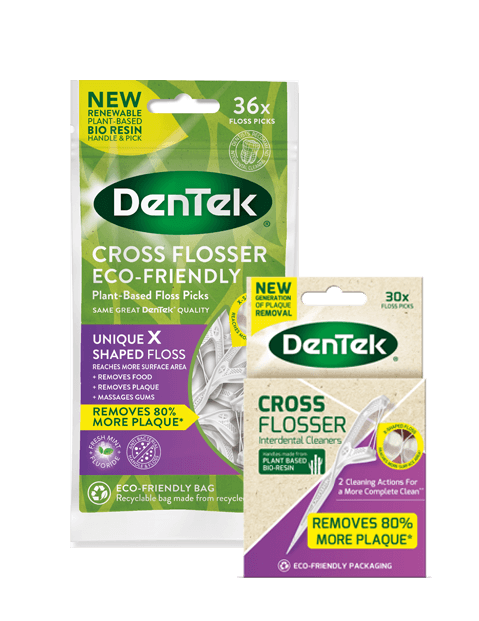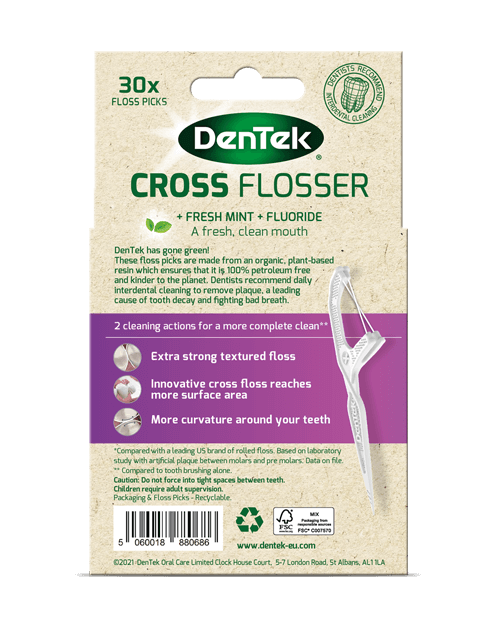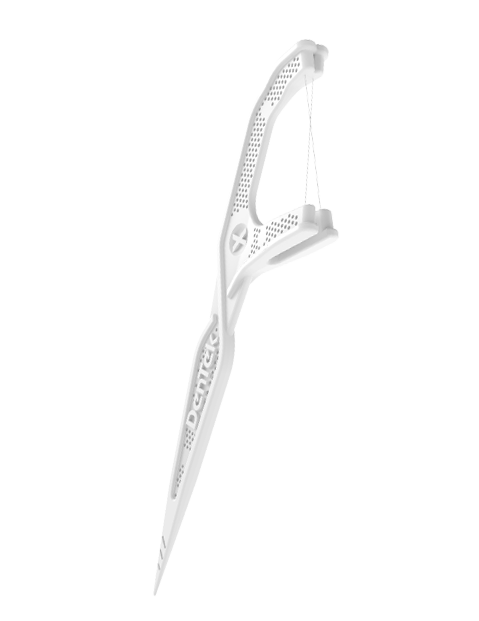 DenTek Eco Cross Flosser
Cross Flosser – Boots
Cross Flosser – Waitrose & Ocado
The DenTek Eco Cross Flosser provides the high performance cleaning power of our regular Cross Flosser but with the added benefit of being kinder to the environment.
If you're looking for a sustainable flosser that really works ideal for medium to large gaps, you've found it. Due to its unique design, the DenTek Eco Cross Flosser has been clinically proven to get rid of 80% more plaque from between teeth than leading rolled floss*. Its distinctive cross-shaped design allows the floss to make close contact with the teeth and reach a larger surface area of each tooth. The innovative floss has been developed to help to remove plaque and food particles and reduce the risk of gum disease and cavities.
Featuring a handle made from bio-based plastic (produced using a renewable raw material made from sugar cane plants), this advanced cross flosser has been made to protect the planet's finite fossil resources and uses up to 80% less carbon emissions than traditional plastic.
Product Features & Key Benefits
Uses up to 80% less carbon emissions than conventional plastic

Clinically proven to remove 80% more plaque*

Extra strong, textured floss curves around teeth to remove food and plaque for an exceptionally clean feeling

2 cleaning actions for a more complete clean**

Innovative cross floss reaches more surface area

X shape floss effectively removes more food and plaque and gently massage gums

Inbuilt textured pick to dislodge food particles and plaque

Mint flavour for added freshness

Fluoride coating

Features scaling tool for additional plaque and stain removal

GMO Free