DenTek Whitening Floss Picks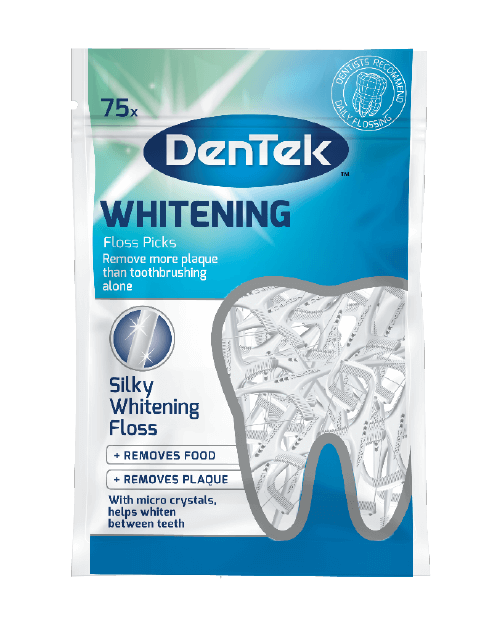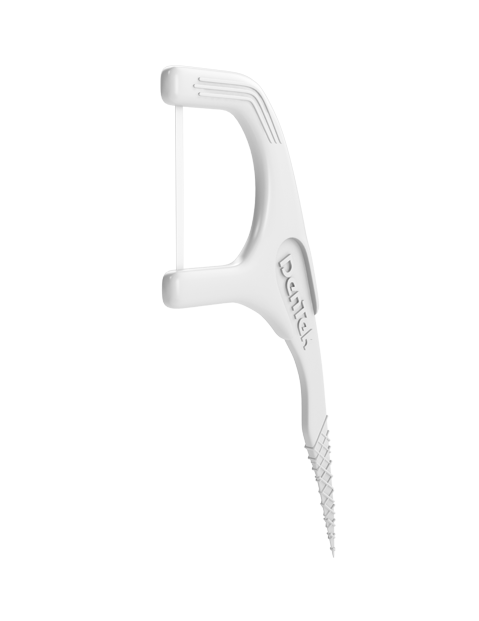 DenTek Whitening Floss Picks
Take your dental hygiene regime to the next level with our DenTek Whitening Floss Picks. These innovative picks contain whitening micro crystals to help keep your teeth looking their best. These special ingredients have been formulated to whiten in between teeth to help brighten your smile. 
Key Benefits
3 cleaning actions

Silky whitening ribbon with micro-crystals to gently remove stains and help whiten between teeth

Textured pick helps to gently massage gums and clean between teeth

Tongue cleaner helps to remove bacteria, helping to give you the confident, fresh breath you are after

Effectively removes plaque and food for a deep clean

Mint flavour for an extra clean feeling

Fluoride coating to help prevent tooth decay

For a dental flosser designed to help protect your oral health and boost your chances of getting that Hollywood smile, choose DenTek Whitening Floss Picks.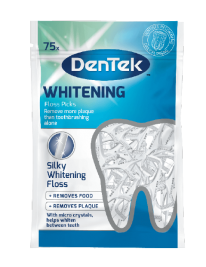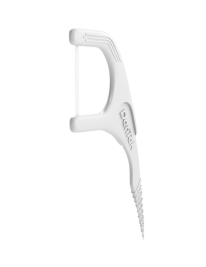 Additional information
Where to buy
Directions for use
Reviews
Additional information
Where to buy
Directions for use
Flossing Instructions:
Gently slide floss up and down between teeth allowing the floss to wrap around teeth.
Clean above and below the gum line.
Rinse as necessary.
Pick Instructions:
Place pick between teeth and gently press against the gum.
Use an in and out motion to remove food particles and stimulate gums.
Rinse as necessary.
Tongue Cleaning Instructions:
Extend your tongue.
Place the Tongue Scraper on the back of your tongue and pull forward, skimming the surface of your tongue.
Rinse as necessary.
Reviews
I find that a lot of flossers are not fit for purpose these days and break on use. These bad boys are good quality and do the job.
Cov Kid
I bought these because I couldn't get the silky tape floss I used to get from Boots. Very happy with how these turned out. Almost identical. Very good quality.
its-a-magic-world
I like the fact that the silky floss cleans well although mint flavour is ok. nice whiten between teeth amazing
ruba hashem
Not much you can say about a dental stick. They do the job. Delivery was swift.
Caroline
New and Improved – Unlike 'own brand' flossers, dentek's are much less likely to break but, the odd one would. When I opened these flossers, the floss looked thicker than usual and I haven't had a single one break on me so far.
Bangle